Get your employees' job ready. Add an award-winning experiential learning tool into your curriculum.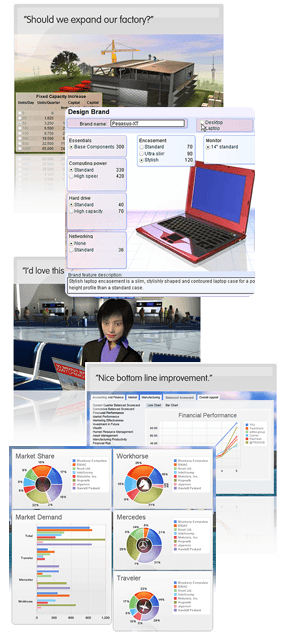 Marketplace® Simulations is a family of over 30 marketing and business simulations designed for university business courses and executive business programs. It is developed by Innovative Learning Solutions Inc, the leading publisher of online learning solutions for business students and corporate professionals worldwide.
Marketplace Simulations allow students to experiment with business strategies, test business ideas, and experience the consequences of their actions in a virtual business environment. As students apply the theoretical knowledge they learned in your class to make strategic and tactical business decisions in the game, they develop skills critical to succeed in today's business world.
Marketplace Makes Training And Learning Business Easy
Pre-customized options
Flexible participation/interaction between student and instructor
Includes valuable coaching materials: introductory presentations, guidelines, coaching tools, added activities, rubrics and assessment tools
Web-based software – Installation free
Accessible support hours and free 24/7 emergency support
"The single most valuable learning experience in my entire MBA training. The simulation helped pull together my finance, accounting, marketing, and operations knowledge into a coherent picture of how a business operates."
— Jeffrey R. Davis, EMBA student
Help your teams adapt Business acumen skills in 2 days by immersing them into a simulated market where they assume the role of a General Manager.
Ready to see improvement, contact our experts for an initial consultation